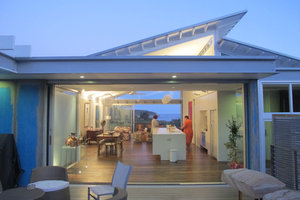 Architects Eastern Suburbs Sydney
High-end Residential Architects Sydney
The built work of Peter Janks Architects in Sydney's Eastern Suburbs and elsewhere quietly occupies a position amongst that of Sydney's top high-end residential architects and is recognised for its sensitively handled contemporary residential design. The firm's clients enjoy an immersive experience in which they are taken on a personalised journey in residential architectural design, always under the guidance of the founding principal, Peter Janks.
Peter's experience over two continents in contemporary home design and modern apartment design lays the foundation for an exploration of the client's objectives and aspirations as set against the specific nature of each site, the immediate area, and Sydney's climate. The firm's design philosophy favours simplicity and clarity in the sequencing and moulding of internal and external spaces, always with an eye to capturing and harnessing natural light and making the most of considered indoor-outdoor connections, both physical and visual. Sydney's wonderful temperate climate and vegetation lend themselves to the design of homes in which the enjoyment of both may be maximised.
While utilising the latest sustainable products and systems, the material palettes chosen for the firm's buildings seek to engender simplicity in architectural expression with an accompanying warmth and welcoming quality. Peter Janks Architects enjoys an excellent record in its dealings with Councils and authorities. The firm works comfortably and collaboratively with applicable consultants and specialists to ensure that project documentation is comprehensive, clear, and complete which in turn facilitates a smooth building experience and successful project delivery.
Architecture For Modern Homes
Peter Janks Architects delivers high-end architecture services to those who want something more from their home. We don't want to simply design a place for you to rest your head, but rather a home in the true sense of the word, an asset that becomes part of both your identity and legacy.
Prestigious, Luxury Designs
We pride ourselves on our ability to create evocative, modern designs for the discerning homeowner. When investing in your dream home, you want quality, and that's what we deliver. Innovative styling and prestigious design mark the luxury home you've always dreamt of.
We are not your average architects in Sydney and don't design average homes. We instead nudge the cutting edge of design principles, working with modern innovation to create something for you that is appropriate, welcoming, and most often stunningly beautiful.
Designing For Lifestyle
From the most affluent Sydney suburbs to beachside retreats, we design with your lifestyle in mind. The busy professional needs a modern, comfortable space to call their own. Space-maximised entertaining areas. Modern solutions for a modern world.  
We also specialise in waterfront living, giving you a distinguished home suited to the beautiful environment around you. Whatever your lifestyle, we'll create a home design that you can both relish and celebrate. 
Bespoke Designs
Our services are all about you. Whether you love contemporary urban living or you're building a spacious family home, we work diligently to understand all of your needs. Remember, designing a home is all about bringing your home aspirations to life and making them a reality. We bring the technical expertise and invite our clients to dream. 
We don't deal in generic home designs, rather offering a  bespoke service that captures your every need. 
Your Sanctuary
Your home should be a reflection of you. It should be relaxing. Convenient. Comfortable. Moreover, it should be as impressive to guests as it is to you. A person's home is their sanctuary. A place to relax, unwind, entertain, raise a family, or all of the above. These imperatives inform and drive our designs. Your home. Your sanctuary. 
Eco-Friendly Architecture
Modern home design often calls for modern solutions, and there's nothing more on-trend than eco-friendly building. In our world, eco-friendly doesn't mean cheap, and it certainly doesn't mean unattractive. We design sustainable homes each stylistically unique to its site and circumstances, great for the planet and great for you.  
A contemporary home with an environmentally friendly design isn't just a passing fad. Relevant to where the world is, and to where it's going, it offers you future asset security as well as a beautiful home to enjoy now.  
Architecture Excellence
With over four decades of experience designing beautiful, esteemed homes throughout Sydney, the name Peter Janks Architects is associated with quality in both process and result. Your biggest financial investment is your home, and we take that responsibility seriously in our pursuit of architectural excellence.  
Whether your proposed project is in the Eastern Suburbs or elsewhere in Sydney, do contact Peter Janks Architects and let us do the same for you.
---
Testimonials

7 Reviews
Greg Wilkinson

Relationship: Client Project Date: Sep 2020
Said by anybody who visits and by passers by, 17 Gilchrist Place, Balmain East is very probably the nicest, most livable house on the Balmain peninsular and it is all thanks to the design and fastidious build supervision of Peter Janks.
I was tempted, once the design was complete and the builder contracted, to dismiss Peter and supervise the build myself. Fortunately I was talked out of this by my neighbor who had spent a lifetime in building design and construction. His comment was "Builders are very good at making things easier and cheaper for themselves, let your architect be the guy who deals with the builder." This was a very sound piece of advice.
Peter is firstly a gentleman, secondly a good listener and very importantly an absolute stickler for detail. At times even I was concerned about how much more time things were going to take to get them perfect but in the end every bespoke detail of this house is perfect.
The entire design and building experience was so enjoyable and if I ever get the chance, I'd do it again.
Read More >
Nidzovic Contract Builders

Relationship: Worked with pro Project Date: Apr 2019
Peter Janks is the consummate professional. His attention to his project, is consistent, high quality and thorough. This together with his "can do" attitude and close working relationship with builders and clients, make him a pleasure to work with. Fast resolution of any queries related to complicated builds, save time and money for clients and contractors alike.
Read More >
Paul Leighton

Relationship: Client Project Date: Jan 2002
Peter, is the consummate professional. Very particular in determining the details of the brief. Attention to detail in terms of managing the building contract. Consequently, we were delighted with the finished product.
Over the years we have used him twice for our design & contract professional. Highly recommended.
Read More >
Daphne Flax

Relationship: Client Project Date: Mar 2015
It was a great pleasure to employ Peter Janks twice to renovate our home in Killara. Peter is an experienced, confident, state of the art Architect. He is a good listener, great problem solver, imaginative and reliable. I trust his judgement implicitly.
Read More >
Michael Rakusin

Relationship: Client Project Date: Dec 2011
I had the real pleasure of working with Peter over a long time while designing and building a house at Killcare on the NSW Central Coast. Like most people embarking on a new construction, we wanted something "special". Peter had an uncanny ability to listen to my wacko ideas and my wife's far more mundane yet vital concerns and turn these (often conflicting) requirements into practical, buildable but inspired plans. He brought a wonderful vision to the whole scheme. But more than vision, Peter is painstakingly detailed in his thinking. No corner escaped his gimlet attention, no joint was simply a joint.
When construction time arrived, Peter's eye for detail came into its own. As the supervising architect, his site visits took hours. Not even the smallest detail escaped his scrutiny. I think the tradies on site used to roll their eyes when they saw his car draw up. The end result was a beautiful, wonderfully constructed home that is a delight to inhabit and a wow for all who visitor.
Read More >
Alvin Gentin

Relationship: Client Project Date: Mar 2006
Excellent architect , great attention to detail and hands on approach to overseeing the work. Weekly sight meeting and more when needed.
Our house improved so much after our experience with Peter.
Would certainly use him again and definitely recommend him to anyone looking for a superb architect
Read More >
System Builder

Relationship: Worked with pro Project Date: Jun 2018
We have done a few projects with Peter and have been thrilled with the results,
but even more so with the friendship that we have developed.
Peter is not only a great architect but a really fine character and a truly decent man.
We would highly recommend Peter.
Neill and Kathy Miller
Read More >