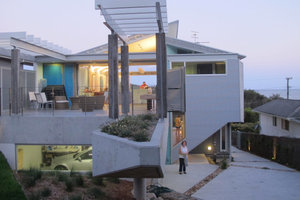 Architects Sydney
Residential Architects Sydney
We're a North Sydney Architecture firm with a primary focus on residential buildings. For us, our work is all about creating personal environments that enrich both our clients' quality of life and the fabric of the immediate environments of which they become a part. In our completed work, we've consistently delivered to our clients architecture that has gone above and beyond their expectations.
Sydney is home to some of Australia's most stunning architecture. In Australia's oldest city, we aim to interpret and anticipate elements of Sydney's unique climate and culture into our at-times restrained, at other times overt and sleek modern designs. It is our aim to design the perfect home for our clients that sits comfortably within its landscape setting and surrounds. Transparency is key to our operations. We focus on identifying and interpreting our clients' vision. With free-flowing communication during every step of the process, we're open to input. We're serious and committed, and this makes our dedicated team at Peter Janks Architects the progressive and qualified firm we're proud to be.
Based in North Sydney, much of our work has been concentrated in Sydney's Eastern Suburbs and Lower and Upper North Shore. We have also done work in N. NSW., up the coast in Killcare, in the Inner West and as far South as Georges River. We've had successful dealings with Councils including Woollahra, Waverly, Randwick, Mosman, North Sydney, Ku-ring-gai, Northern Beaches and Lane Cove.
If you're searching for the best architects in Sydney, our team at Peter Janks Architects would love to hear from you. Do get in touch with our luxury house architects Sydney to begin the process of designing and realising the home you've always dreamt about.
---
Testimonials

7 Reviews
Greg Wilkinson

Relationship: Client Project Date: Sep 2020
Said by anybody who visits and by passers by, 17 Gilchrist Place, Balmain East is very probably the nicest, most livable house on the Balmain peninsular and it is all thanks to the design and fastidious build supervision of Peter Janks.
I was tempted, once the design was complete and the builder contracted, to dismiss Peter and supervise the build myself. Fortunately I was talked out of this by my neighbor who had spent a lifetime in building design and construction. His comment was "Builders are very good at making things easier and cheaper for themselves, let your architect be the guy who deals with the builder." This was a very sound piece of advice.
Peter is firstly a gentleman, secondly a good listener and very importantly an absolute stickler for detail. At times even I was concerned about how much more time things were going to take to get them perfect but in the end every bespoke detail of this house is perfect.
The entire design and building experience was so enjoyable and if I ever get the chance, I'd do it again.
Read More >
Nidzovic Contract Builders

Relationship: Worked with pro Project Date: Apr 2019
Peter Janks is the consummate professional. His attention to his project, is consistent, high quality and thorough. This together with his "can do" attitude and close working relationship with builders and clients, make him a pleasure to work with. Fast resolution of any queries related to complicated builds, save time and money for clients and contractors alike.
Read More >
Paul Leighton

Relationship: Client Project Date: Jan 2002
Peter, is the consummate professional. Very particular in determining the details of the brief. Attention to detail in terms of managing the building contract. Consequently, we were delighted with the finished product.
Over the years we have used him twice for our design & contract professional. Highly recommended.
Read More >
Daphne Flax

Relationship: Client Project Date: Mar 2015
It was a great pleasure to employ Peter Janks twice to renovate our home in Killara. Peter is an experienced, confident, state of the art Architect. He is a good listener, great problem solver, imaginative and reliable. I trust his judgement implicitly.
Read More >
Michael Rakusin

Relationship: Client Project Date: Dec 2011
I had the real pleasure of working with Peter over a long time while designing and building a house at Killcare on the NSW Central Coast. Like most people embarking on a new construction, we wanted something "special". Peter had an uncanny ability to listen to my wacko ideas and my wife's far more mundane yet vital concerns and turn these (often conflicting) requirements into practical, buildable but inspired plans. He brought a wonderful vision to the whole scheme. But more than vision, Peter is painstakingly detailed in his thinking. No corner escaped his gimlet attention, no joint was simply a joint.
When construction time arrived, Peter's eye for detail came into its own. As the supervising architect, his site visits took hours. Not even the smallest detail escaped his scrutiny. I think the tradies on site used to roll their eyes when they saw his car draw up. The end result was a beautiful, wonderfully constructed home that is a delight to inhabit and a wow for all who visitor.
Read More >
Alvin Gentin

Relationship: Client Project Date: Mar 2006
Excellent architect , great attention to detail and hands on approach to overseeing the work. Weekly sight meeting and more when needed.
Our house improved so much after our experience with Peter.
Would certainly use him again and definitely recommend him to anyone looking for a superb architect
Read More >
System Builder

Relationship: Worked with pro Project Date: Jun 2018
We have done a few projects with Peter and have been thrilled with the results,
but even more so with the friendship that we have developed.
Peter is not only a great architect but a really fine character and a truly decent man.
We would highly recommend Peter.
Neill and Kathy Miller
Read More >